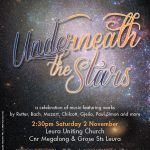 2nd November 2019 – 'Underneath The Stars' a celebration of festive music
featuring works by Rutter, Bach, Mozar t, Chilcott, Gjeilo, Paul Simon and more
15th June 2019 – A charity concert supporting Katoomba SES – Handel, With Care. A new showcase into Handel's works with a modern twist including 'Father Of Mercies', 'Lord, I trust thee', Coronation Anthem for King George 11 including Zadok The Priest.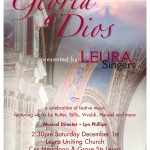 1st December 2018 – 'Gloria a Dios' – Glory to God
Featuring works by Rutter, Tallis, Vavaldi, Handel and more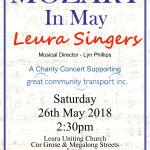 26 May 2018 – 'Mozart In May'
A charity concert supporting great community transport – Blue Mountains
A selection of works embracing Mozart's life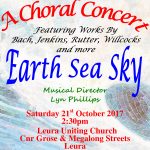 21 October 2017 – 'Earth Sea Sky' was presented.
Featuring works by Bach, Jenkins, Rutter, Willcocks and more
3rd June 2017 – A charity concert supporting State Emergency Services – Blue Mountains Unit
Presenting Gabriel Faure Requiem – with supporting works by John Rutter and Mary McDomanld
26 N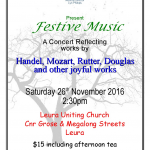 ovember 2016 – 'Festive Music' was presented.
Featuring works by Handel, Mozart, Rutter, Douglas and other joyful works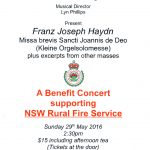 29 May 2016 – Leura Singers performed
Haydn's Missa Brevis no.7.
This was our annual Benefit Concert,
this year supporting NSW Rural Fire Service
25th October 2015 – "Last Night of the Proms" concert took place.
Works from British composers were performed.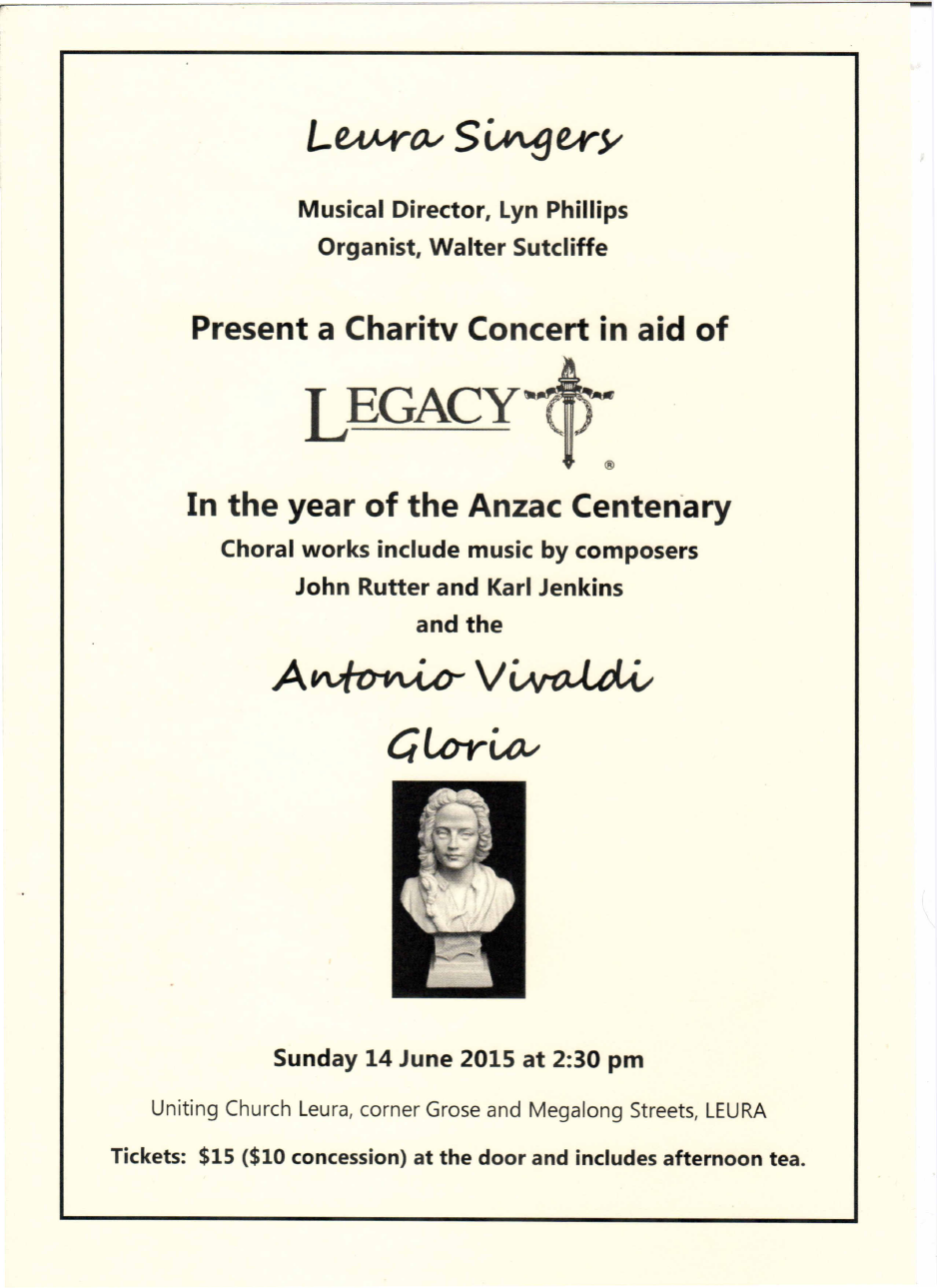 14 June 2014 – A charity concert supporting Legacy featuring:
The Vivaldi Gloria,
Benedictus from Jenkins Armed Man suite –
The Lord is my Shepherd from the Rutter Requeim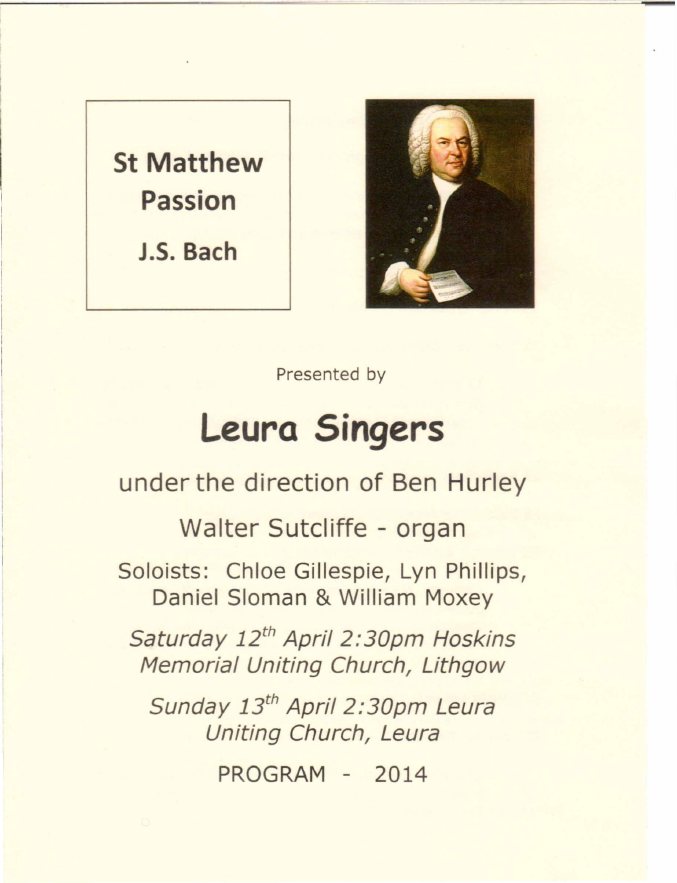 12 April 2014 Leura Singers Presented

J

.S. Bach's St Matthew Passion
Featuring Soloists Chloe Gillespie (Soprano), Lyn Phillips (Alto), and Daniel Sloman (Tenor), William Moxey (Bass) and Walter Sutcliffe (Organ)
This was performed at Hoskins Memorial Church, Lithgow & Leura Uniting Church.
24 & 30 November 2013 & 1 December 2013 – G.F. Handel's – Alexander's Feast

A joint presentation by Leura Singers, Blackheath Phoenix Choir & Orpheus Strings Orchestra –
Directed by Julie Cooney, Rowen Fox & Ben Hurley.
Featuring – Michael Francis, Chloe Gillespie, Suzanne Harcourt, Margaret Hilder Janette Norcott.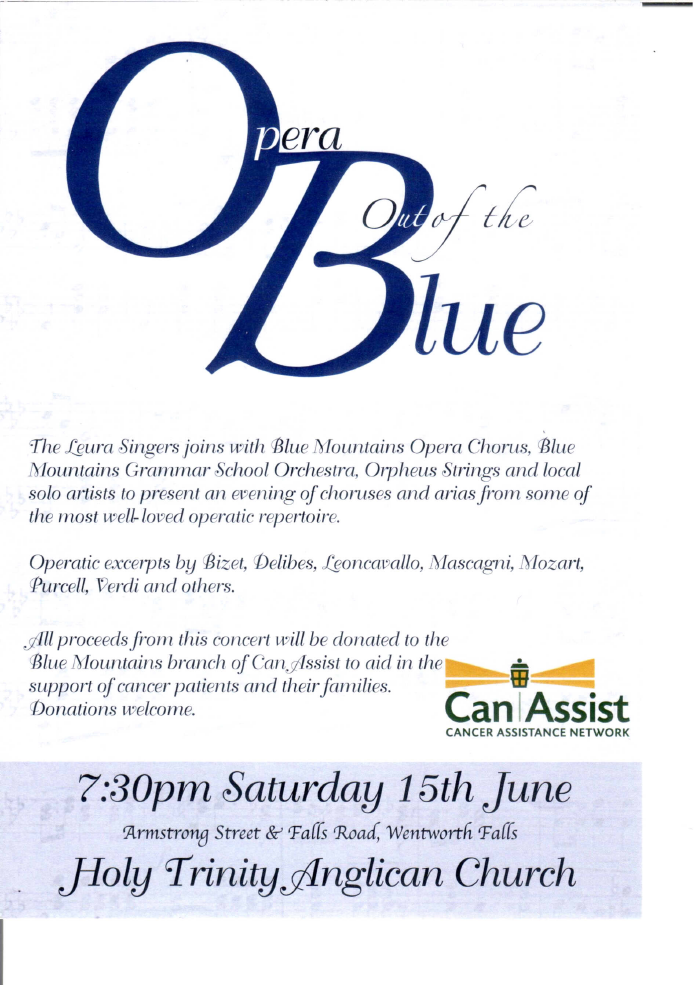 15 June 2013 – Opera Out Of The Blue – A combined performance by Blue Mountains Opera Chorus, Blue Mountains Grammar School Orchestra, Orpheus Strings & Leura Singers. All the proceeds went to Blue Mountains Can-Assist.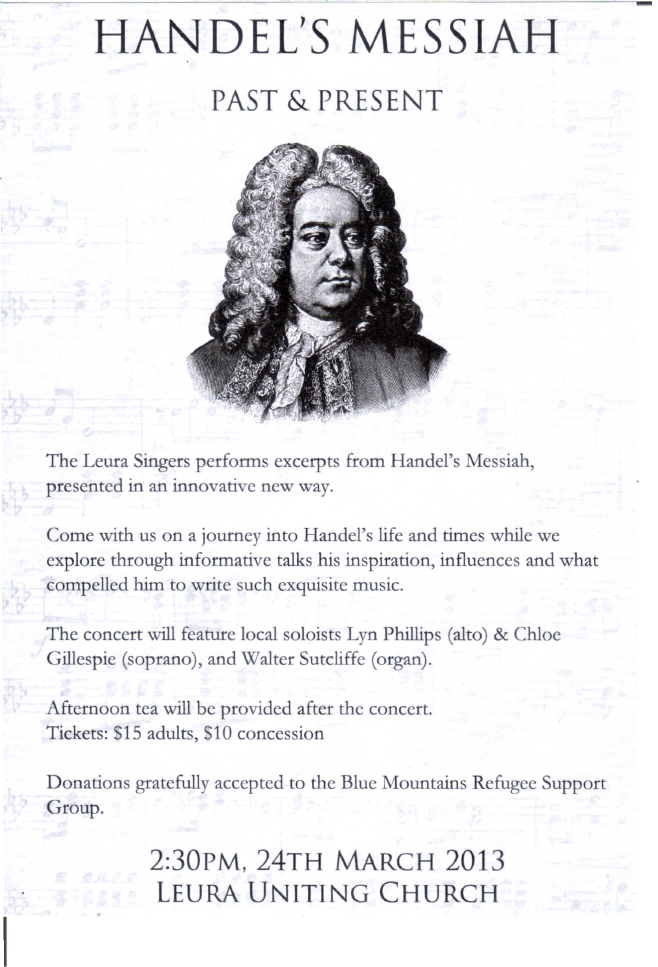 24 March 2013 – Handel's Messiah – Past & Present. A journey into Handel's life & times and his inspiration, influences and what inspired him to write such exquisite music.